Charged Up – Calgary's Electric Vehicle Festival 2022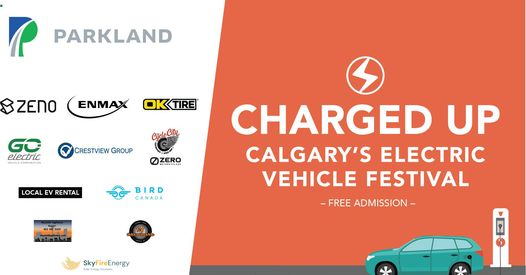 Charged Up showcases 30+ EVs featuring a wide range of models and makes from local owners ready to take questions about their experience driving electric.
EV experts and conversion specialists will be on location to dispel myths and to offer first-hand testimonials. Bring the whole family to generate electricity on pedal power bikes, enjoy giveaways, learn about electric energy programs, grab a snack at the food trucks, and listen to live music.
Charged Up sponsors will answer hard-hitting questions about the impact on our electric grid, charging station opportunities and renewable energy options for Calgarians. Never driven an electric car or motorcycle? Charged Up offers test drives!
Summary:
We were graced with beautiful weather (the forecast was… less than beautiful), and met many Calgarians who were curious about EVs. With the venue located near downtown, one of the common concerns we heard was about how to charge an EV in a condo building. That does make for a challenging EV ownership experience, but it is something the EVAA is working on behind the scenes, hopefully our efforts are met with some success down the line.
Next Event
Date

Oct 05 2023

Time

12:00 pm - 7:00 pm
Archives